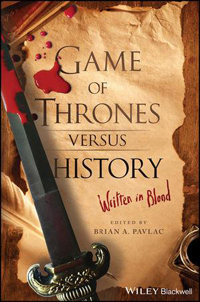 The Game of Thrones versus History: Written in Blood is an academic-trade title to be published by Wiley-Blackwell in April 2017 before the start of the Seventh Season of HBO's highly successful series.
The book will comprise a collection of essays by historians who explain the factual roots of George R. R. Martin's book series, A Song of Ice and Fire and the HBO television series, Game of Thrones. Similar in vein to the volumes in Wiley's Pop Culture and Philosophy series, GoT v. H would reach out to fans and students who wish to enhance their experience of the fictional story, while deepening their knowledge of history through parallels drawn by the contributing history scholars. Writing style would be entertaining as well as informative and thoughtful.
Official link to the book: wiley.com catalog page.
Available for pre-order at Amazon or Barnes & Noble.
Links to other web pages with info are here.
A list of suggested readings is here.
Our original call is here.